Welcome to Matus1976's Akira Bike Project - Building a fully functional high performance recumbent motorcycle inspired by Kaneda's ride in "Akira"
Having the front end rise up is a good idea, in this update I start cutting and building a 'Virtual Pivot Point' front end, comprised of parrellel bars with a particular linkage. This will allow the front cowing to rise up, making it really easy to get in and out of the bike.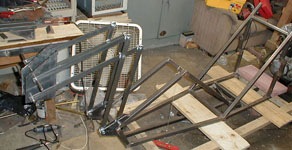 Help bring the fully functional high performance production Akira inspired motorcycle into existence...


Contribute through Amazon affilicate purchases
Donate directly
go to crowdfund for more options