Welcome to Matus1976's Akira Bike Project - Building a fully functional high performance recumbent motorcycle inspired by Kaneda's ride in "Akira"
The conceptual founation of the final version of the bike is worked out, with CG renderings and CAD modeling. It's not completely finalized and some aspects will change after prototype testing, but this is a highly accurate representation of what the final version will look like.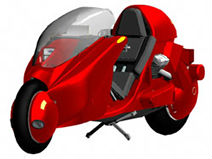 Help bring the fully functional high performance production Akira inspired motorcycle into existence...


Contribute through Amazon affilicate purchases
Donate directly
go to crowdfund for more options