Welcome to Matus1976's Akira Bike Project - Building a fully functional high performance recumbent motorcycle inspired by Kaneda's ride in "Akira"
In 2012 I launched a Kickstarter Campaign in an attempt to raise enough money to finish my prototype. Ultimately it was unsuccessful, but it did get attention from a Seattle based motorcycle engine manufacturer, which offered me a motor, and ultimately a job to help launch a new brand of bikes. I accepted, sold most of my stuff and moved cross country.
Unfortunately the owner changed his mind about that endeavor and decided to close the company (the day I arrived!) A roller coaster ride ensued, I ultimately went back into IT and setup and rented my own shop again.
I plan on launching another Kickstarter once the Power Prototype is completed to help fund the production model.
Until then, if you want to see a fully functional high performance Akira inspired motorycle please Contribute!


Watch the video to learn all about the project and the benefits of the recumbent platform
Check out my Kickstarter Project here. Though it has now ended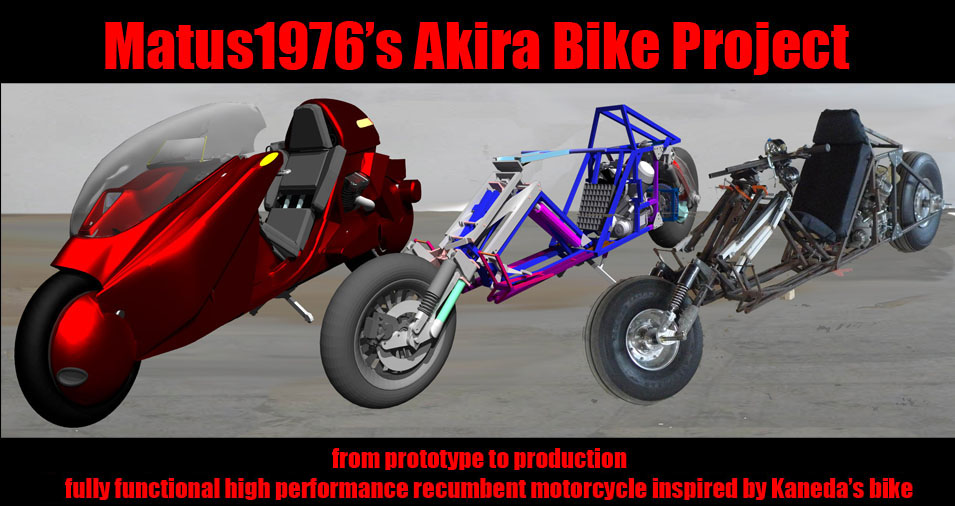 Help bring the fully functional high performance production Akira inspired motorcycle into existence...Contribute!


Contribute through Amazon affilicate purchases
Donate directly
go to crowdfund for more options